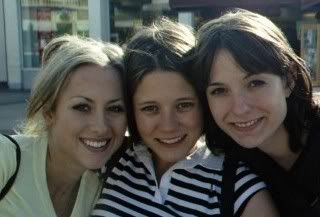 This subject of friendship is something I've been pondering lately. I was browsing the internet and found myself intently reading an article called, "8 tips for maintaining friendships." Summarized, the basic 8 tips are:
1. Use Facebook and social media (at the extreme it can be a bad thing, but it's an efficient way to maintain connections).

2. Show up – nothing can replace seeing someone in person – go to a party, wedding, babyshower, make a date for coffee, etc.

3. Join or start a group – good for making and maintaining new friendships and building a social network.

4. Think about what's fun for you. Take charge of shaping your social environment. Think about what level and type of social activity brings you happiness, then make the effort to make it happen.
5. Be wary of false choices. Sometimes people say, "I want to have a few close, real friends, not a bunch of superficial friends." But that's a false choice. There are all kinds of friends – intimate friends, casual friends, professional friends, childhood friends who you see once every ten years, and even online friends you've never met. These friendships aren't all of equal importance, but they all add warmth and color to your life.
6. Make the effort to say, "This made me think of you."

7. Cut people slack.  This means basically trying not to take things personally if a friend is late, thoughtless, etc. Their unkind actions are probably not a reflection of their character but more influenced by their situations. As a caution she adds, "Perhaps surprisingly, lonely people tend to be more defensive and judgmental than non-lonely people."

8. Don't expect friendship to happen spontaneously. Sometimes friendships do take work and just because it's not flowing naturally doesn't mean it's not authentic.
Ok. Wait a minute. Do these tips seem obvious to you? Holy Cow!
What kind of all-time low have I hit that I'm reading an article about how to have friends?
Is there something wrong with me? I mean I feel like I'm all around a pretty normal person – I'm not that hard to get along with. And sometimes, if you catch me on the right day, I can even be fun! So why is it so hard to make a connection?
But actually I feel like I'm hearing this a lot these days. It seems like other women are feeling the same way – wanting and needing connections with other like-minded women but having trouble finding and maintaining satisfying friendships.
One friend said in an email, "Not having a true friend to talk to has made me a bit lonely… i don't know, i just really love a good connection, and would rather be alone than settle for less – does that make sense?"
Yes, it does make sense, I totally understand and relate. Actually, thinking about going out and building friendships sounds completely exhausting to me right now. It makes me want to crawl in bed and pull the covers up.
I've become much more introverted over the years and my days are so full and tiring that I feel like I don't have the extra energy to put into relationships. But the truth is, when I don't make the effort loneliness starts to creep in. And I know that's not a good or healthy thing.
I'll close with this last quote from the article to encourage us. The author says,
"Ancient philosophers and scientists agree: strong social ties are a KEY to happiness. You need close, long-term relationships; you need to be able to confide in others; you need to belong; you need to get and give support. Studies show that if you have five or more friends with whom to discuss an important matter you're far more likely to describe yourself as "very happy." Not only does having strong relationships make it far more likely that you take joy in life, but studies show that it also lengthens life (incredibly, even more than stopping smoking), boosts immunity, and cuts the risk of depression."
And in the comments section someone said, "I think that friendships are like everything else in life – if you put the energy into them, you will be rewarded with more of what you are 'spending'."
So here's to more and better friendships in the coming year! (Just actually saying that makes me feel tired, but I do mean it, I know I do!)
This post was originally published 2/2/2010