Well, today was my first day back to homeschooling since having Koa and our first official day with Sonlight – our new curriculum. I think overall the day was positive but it was not without some tense moments.

This moment was a triumph. Kai was really giving me a hard time about doing any chores because he "just didn't want to." He finally made a good "choice" (I told him he could either do his chore quickly and we can move on to the next activity, or if not we could keep working on chores for the rest of the day). That kind of kicked him into gear and he actually went above and beyond what I asked him to do and was very proud of himself.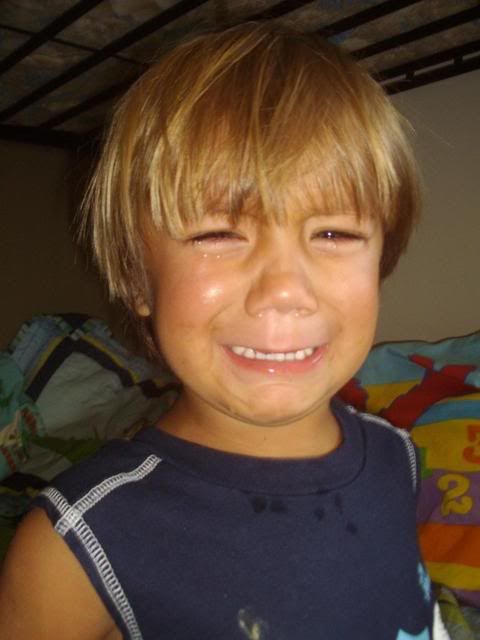 I have to include this picture because this is what I'm seeing a lot of these days with Ezzy. Actually taking this picture kind of snapped him out of this fit he was throwing, he was so surprised and then wanted to see his photo. Right now we're working on "Angry Choices." This is something that really worked with Kai at his age. Just knowing that it's ok to be angry – and there are things you can do when you're angry instead of hurting other people. I feel like I am saying the same thing over and over and over to him. I know he's going to get this – I have faith! Poor guy – it's tough to have such strong emotions and not know what to do with them.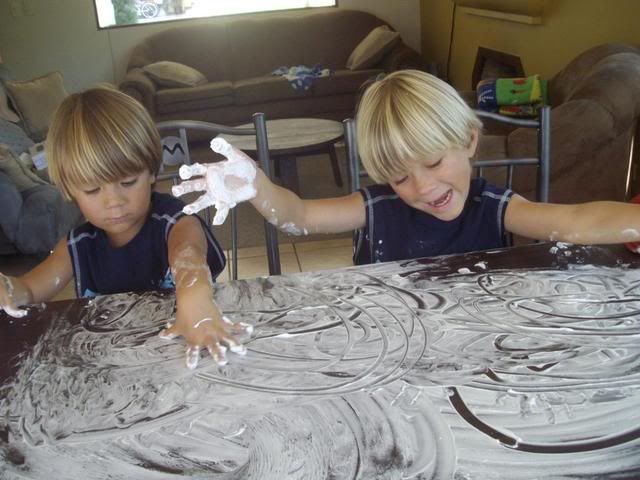 Another struggle I have with Kai is writing – he does not like writing at all, especially any type of work with handwriting. I'm not sure what to do because he needs to be writing and he puts up a fight when it comes down to it. So we did this activity today – writing in shaving cream – bubbles and sticks. I think it really helped because a little later Kai sat down and did a whole page of handwriting. So hopefully this will get easier. I hope, I hope.
I love what I'm doing right now, but in those tense moments (for instance when every child is screaming or crying at the same time – last night at bath time this did actually happen) I sometimes seriously think I'm just going to lose it. I get frustrated, I get angry, I get irritated, I yell – and I know that is completely not productive or helpful in any way. Sigh. Luckily my kids have grace with me and we seem to pull through together and keep moving forward. In the end there's always lots of hugs and lots of love. No matter what has happened in the day, I can always count on laying down with Jude at bedtime and without fail he gives me a hug and kiss and says, "I love you so much mommy" over and over again. You can't beat that.
Tomorrow is a new day and a new adventure!